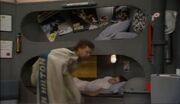 The Titan Hilton Hotel was a Hilton hotel on Titan, visited by Dave Lister at some point in the mid-to-late 22nd century.
Three million years later aboard Red Dwarf, Lister would often wrap a Titan Hilton Hotel bed sheet around himself, which he had once "acquired" from the hotel. (Numerous scenes in Series I and Series V ep 2)
Ad blocker interference detected!
Wikia is a free-to-use site that makes money from advertising. We have a modified experience for viewers using ad blockers

Wikia is not accessible if you've made further modifications. Remove the custom ad blocker rule(s) and the page will load as expected.