"Three million years from Earth, the mining ship Red Dwarf, its crew: Dave Lister, the last human being alive, Arnold Rimmer, a hologram of his dead bunkmate, and creature who evolved from the ship's cat. Message ends."
- Holly, Series II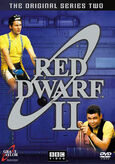 Series II of Red Dwarf aired between September and October 1988. It starred Chris Barrie as Arnold Rimmer, Craig Charles as Dave Lister, Danny John-Jules as the Cat and Norman Lovett as Holly.
Dave Lister continues his long voyage home, meeting new friends, experiencing the ultimate in computer gaming, digging up old memories, going to the past to find his one true love married, facing the iron rule of the ship's backup computer, and even meeting Deb Lister: a woman who is as much of a space bum as he is.
Episodes
Edit
Picture
Title
Original Airdate
Episode #
Kryten
September 6, 1988
7
The Boys from the Dwarf receive a distress signal from the Nova 5, a ship crewed by three beautiful women, or so they think.
Better Than Life
September 13, 1988
8
Lister, the Cat and Rimmer play a virtual reality game that promises them all they have ever wanted.
Thanks For The Memory
September 20, 1988
9
For the anniversary of Rimmer's death, Lister decides to give Rimmer the memory of one of his most memorable love affairs.
Stasis Leak
September 27, 1988
10
A time leak in the ship's stasis system allows the Boys from the Dwarf to travel back in time before the accident.
Queeg
October 4, 1988
11
Holly is displaced by Queeg 500 as the Red Dwarf computer, and the crew's initial elation at the change is quickly displaced by terror.
Parallel Universe
October 11, 1988
12
Holly's Holly Hop Drive catapults Red Dwarf into an universe where everything is opposite, including male and female relations.
Main Cast
Edit
Background Information
Edit
Ad blocker interference detected!
Wikia is a free-to-use site that makes money from advertising. We have a modified experience for viewers using ad blockers

Wikia is not accessible if you've made further modifications. Remove the custom ad blocker rule(s) and the page will load as expected.