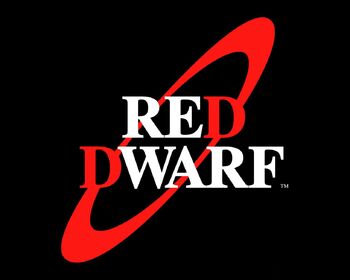 "We're on a mining ship, three million years into Deep Space. . . can someone explain to me where the smeg I got this traffic cone?"
-Dave Lister (The Last Day)

Red Dwarf is an ongoing British comedy/science-fiction multimedia franchise. The central component of the franchise is the television programme which has run for twelve series (formerly on the BBC, now on the Dave channel).
However, there are also four novels (which takes place in the same universe but a different continuity to the television series), audio books, a board game, mobile phone games, comic books, and various toys, clothes and other merchandise.
History
Red Dwarf began as a television series sitcom in 1988 by Grant Naylor Productions (Grant Naylor being a pseudonym of the writing team composed by Rob Grant and Doug Naylor). The duo had previously written for Spitting Image, and the origins of Red Dwarf were in a comedy science fiction radio sketch they wrote called Son of Cliché. They came up with the idea for Red Dwarf in the real-life Aigburth Arms.
Red Dwarf was originally shown on the BBC 2 station, now shown on the "Dave" channel. Ten series have been made (including the ninth which was a three-part mini-series to "reboot" the show), and numerous television specials, including numerous "smeg-ups compilations (or bloopers), Universe Challenge and Can't Smeg, Won't Smeg. The television series regularly racked up many millions of views.
Two pilots were made for a new version of the show in the United States in 1992, but the American pilots were unsuccessful in getting an American series made. A project to get a live-action film underway stalled. Older series of the British television show were remastered in 1998.
The franchise has branched out into different media, including four best-selling novels (Infinity Welcomes Careful Drivers, Better Than Life, Last Human and Backwards), which take place in an alternate dimension to the television series. There are also toys, puppets and figurines of the ships and characters, a paper-based role-playing game, paper comics such as the Red Dwarf Smegazine, webcomics such as Prelude to Nanarchy and Scoop of the Century, and mobile episodes such as Red Christmas.
Red Dwarf is about the adventures of slob Dave Lister, the only survivor of a disaster that killed the crew of the Jupiter Mining Company spaceship Red Dwarf. Lister, the lowest ranking crewmember of Red Dwarf, smuggled a pregnant cat, Frankenstein on board after shore leave on Titan. He was caught in possession of an illegal animal, but refused to surrender it to the ship's captain for dissection. As punishment he was sentenced to eighteen months in suspended animation. However, during this time, a radiation leak killed every living thing on board Red Dwarf except for Lister and his cat, who was safely stashed in the ship's vast cargo hold. After three million years, when the radiation finally faded into background levels, Lister was revived by the ship's artificial intelligence Holly to discover that he is the last human being alive, but he is not alone. Lister and his companions make up the regular characters of the show, the Boys from the Dwarf.
As Lister makes his way back to Earth his only companions are Arnold Rimmer, a hologramatic representation of a dead shipmate, and The Cat, a member of a feline race that evolved from Lister's pet cat and who was, other than Lister, the only known remaining living being aboard the vessel.[1] The crew of the Red Dwarf is later joined by Kryten, a mechanoid and Kristine Kochanski, a parallel universe version of Lister's dream woman. There was once an attempt to make an American version (two pilots were produced, neither of which sold a series) and three specials were created as the "Red Dwarf Night". There was also a magazine about and based on the series.
The series was resurrected for three episodes by Dave as Red Dwarf: Back to Earth in 2009, as well as the creation of two making of documentaries and DVD and Blueray sets filled with special features. Doug Naylor and others involved in production have shown interest in creating a new series, and Craig Charles has confirmed that two new series are being produced, and that filming will begin in November 2011. On January 21, 2011 it was confirmed by Robert Llewellyn that a new series will be filmed in late 2011 to be broadcast in 2012 on the digital channel Dave. On April 15, 2011 both Doug Naylor and Dave officially announced that there would be a tenth series, Series X, which aired in 2012.
An eleventh series, Series XI, was broadcast by Dave in 2016 and a twelfth series is set to air in 2017.
Footnotes
↑

The episode "Waiting for God" revealed that an elderly cat priest, who worshipped Lister as a god, also lived aboard the vessel for some time after Lister's resurrection, but he died moments after being discovered by Lister.
External Links
Ad blocker interference detected!
Wikia is a free-to-use site that makes money from advertising. We have a modified experience for viewers using ad blockers

Wikia is not accessible if you've made further modifications. Remove the custom ad blocker rule(s) and the page will load as expected.