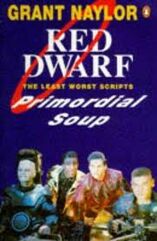 Primordial Soup is a book of Red Dwarf scripts from series 3, 4, 5, and 6.
Contents 
Edit
Rob Grant and Doug Naylor decided to publish some of their unedited scripts (or battle plans as they were referred to) as a book. They included six scripts for shows that were their favourites at the time of writing them.
Those six scripts were:
There was also a key to all the technical jargon at the front and several black-and-white pictures from the set of Red Dwarf.
Due to poor communication and a delay to the television production, the book contained the script for "Psirens" - published six months before it was first broadcast.
Primordial Soup was followed three years later by a sequel, Son of Soup.
Ad blocker interference detected!
Wikia is a free-to-use site that makes money from advertising. We have a modified experience for viewers using ad blockers

Wikia is not accessible if you've made further modifications. Remove the custom ad blocker rule(s) and the page will load as expected.