Welcome to Tongue Tied, a Red Dwarf encyclopedia that anyone can edit.
Tongue Tied is a collaborative project to create the most definitive, accurate, and accessible encyclopedia and reference database for everything related to Red Dwarf.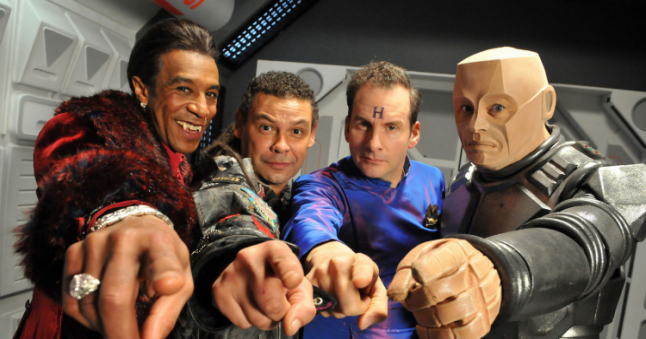 Tongue Tied needs you to help contribute to our articles. Start exploring!
This wiki was started on November 7, 2006. There are currently 973 articles and 1,747 images.
Today is October 26, 2016.



"This is an S.O.S. distress call from the mining ship Red Dwarf. The crew are dead, killed by a radiation leak. The only survivors are Dave Lister, who was in suspended animation during the disaster, and his pregnant cat, who was safely sealed in the hold. Revived three million years later, Lister's only companions are a life-form who evolved from his cat, and Arnold Rimmer, a hologram simulation of one of the dead crew. Message ends."
-Holly (Series I)
Red Dwarf News

October 20, 2016

October 13, 2016

October 6, 2016

September 29, 2016

September 23, 2016

So yeah, we missed talking about the filming dates of two new series, both the online and broadcast launch of Red Dwarf XI starting with "Twentica", and the online release of the latest episode "Samsara". But we are here now. Yay for us! A major thanks to all of our contributors who were more on the ball than us and have helped keep things rolling in spite of our absence. Roland The Headless Thompson Gunner (talk) 04:32, September 24, 2016 (UTC)

For Old News Posts see the News Archive.

Events on Tongue Tied

October 18, 2012

October 11, 2012

October 10, 2012

October 6, 2012

April 18, 2011

Finally getting around to my moderator's look over of recent edits, I would just like to congratulate the good work of editors with regards to things like episode plot summaries. Beer milkshakes for all! Technopeasant 02:04, May 30, 2011 (UTC)

April 17, 2009

April 15, 2009

March 17, 2009

Tongue Tied now has over 200 articles!

December 21, 2006

The Copacabana Lounge, Tongue Tied's social forum, is now officially open! Come and join us!

To Do List

"We need to make a to do list? We should always make a to do list!"
- (RD: Officer Rimmer)




---




Complete episode descriptions
Complete Series descriptions with episode synopsis.
Upload more images: and place them in articles
Articles on real people: Doug Naylor, Rob Grant, Ed Bye, Hattie Hayridge
Articles on characters: Frank Todhunter, Selby and Chen, Gran, Lise Yates
Articles on things: Earth, Felis sapiens, human, spaceship
Achieve Featured Article status on main character pages: Dave Lister, Arnold Rimmer, the Cat, Kryten, Holly and Kristine Kochanski
Improve lacklustre articles with original text or content from other compatible sources, including Wikipedia
Adapt information from other Red Dwarf websites such as Ganymede & Titan or the Space Corps database.
Select a Tongue Tied project in particular to work on.
See more wanted pages....

BBC Shows
Go to these sites for info or for help with your own wiki!
Being Human • Blackadder • Buzzcocks • By Any Means • Casualty • Coupling • Dad's Army • Doctor Who • Eastenders • Grange Hill • Merlin • Orphan Black • Sherlock • Top Gear • Walking With... • Waterloo Road
Want your community included? See how!

UK shows by network: BBC Network • CBBC Shows • ITV Network • Channel 4 Network