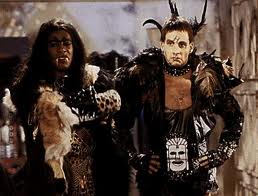 Low Cat
 was a version of
The Cat
 created by the
Triplicator
.
He had all his positive aspects removed. This version had lost the Cat's sense of fashion and dressed in rags. He also enjoyed pain, shown when he burnt his cheek with a coffee pot on purpose and smiled when the Low Kryten headbutted him.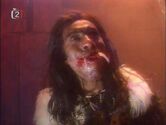 He had a monobrow and appeared to have two enormous teeth which showed that he had evolved from a sabre-tooth tiger instead of a normal domestic cat. He was seen eating the remains of his higher self messily. 
He was destroyed when the triplicator recreated Red Dwarf from the two copies. (RD: Demons & Angels)
Behind the scenes
Edit
In the making of Series V, Danny John-Jules said that the sabre-teeth worn by the Low Cat hurt his mouth for some time after. He also said that he imagined the Low Cat would have been the bully aboard the Cat Arks.
Ad blocker interference detected!
Wikia is a free-to-use site that makes money from advertising. We have a modified experience for viewers using ad blockers

Wikia is not accessible if you've made further modifications. Remove the custom ad blocker rule(s) and the page will load as expected.