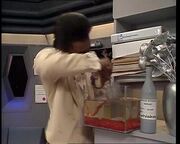 Lennon is one of Dave Lister's robot goldfish (the other one being McCartney). (RD: Future Echoes) it is implied several times that Lister has these electronic pets because he can't keep live ones that way.
He is presumably named for John Lennon.
Ad blocker interference detected!
Wikia is a free-to-use site that makes money from advertising. We have a modified experience for viewers using ad blockers

Wikia is not accessible if you've made further modifications. Remove the custom ad blocker rule(s) and the page will load as expected.