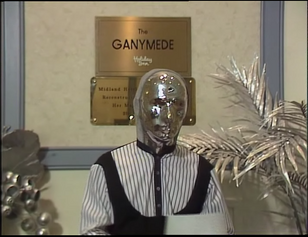 The Ganymede Holiday Inn was a hotel on the Jovian moon of Ganymede, visited by several members of the Red Dwarf crew, and later the Boys from the Dwarf who had traveled back in time through a stasis leak.
Setting
The inn was obviously a large, luxury hotel with a well-appointed lobby, Mechanoid porters, room service and a honeymoon suite. They played tasteful music in the lobby, and the whole hotel was nicely decorated.
Visits by the crew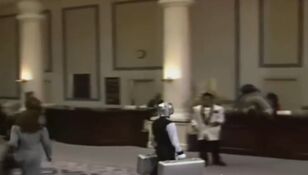 When Dave Lister found a wedding photograph of himself and Kochanski, he used a stasis leak to travel back in time so that he could find her. Her roommate told him that Kochanski was staying at the Holiday Inn on Ganymede, so Lister, The Cat and Holly followed her there.
While Lister tried to determine Kochanski's room number from the receptionist, The Cat encountered a suitcase with artificial intelligence who asked him if he had seen his owner before moving off. When a hotel guest walked past wearing a fox fur, The Cat assumed that a dog was trying to strangle her and leapt to her defence, spraying it with a soda siphon and then wrestling it to the ground.
When Lister arrived at Kochanski's room, he was depressed to see it was the honeymoon suite and that she was with another man - his own future self. He had to console himself with the knowledge that it would all work out in the future, as well as with the bottle of wine the Cat stole from the room. (RD: Stasis Leak)
Behind the scenes
The scenes in the Ganymede Holiday Inn were filmed at the real-life Midland Hotel, Manchester, where the cast and crew were staying at the time, with actual hotel guests shown in the foyer, and the confrontation scene being filmed in the real Room 008. The scenes were shot in the early hours of the morning to avoid too much disruption to the hotel.
Ad blocker interference detected!
Wikia is a free-to-use site that makes money from advertising. We have a modified experience for viewers using ad blockers

Wikia is not accessible if you've made further modifications. Remove the custom ad blocker rule(s) and the page will load as expected.