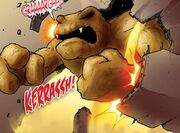 The Fecal Beast was a monstrous gestalt entity that was comprised of sand and three-million-year-old irradiated sewage; that arose from the sewers of Red Dwarf and construction sand (once used as a giant litter tray by felis sapiens) in Cargo Bay 12.
It lived on fecal matter and was very powerful and murderous. It was a gigantic humanoid in shape, with huge fists, black eye-holes, fangs, and was accompanied by an overwhelming stench.
Like many enemies of the boys from the Dwarf, the fecal beast was impervious to bazookoid fire, but the Cat defeated it by "cleaning out the kitty tray" - pushing it out of airlock with a Garby. ("Scoop of the Century", Red Dwarf webcomic)
Ad blocker interference detected!
Wikia is a free-to-use site that makes money from advertising. We have a modified experience for viewers using ad blockers

Wikia is not accessible if you've made further modifications. Remove the custom ad blocker rule(s) and the page will load as expected.