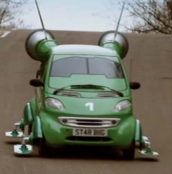 Carbug is a vehicle used by the boys from the Dwarf in an alternate England, Earth. Carbug appears in the "Back to Earth" mini-series, later retconned to be Series IX with the release of Series X.
Carbug is a customized Smart Fortwo car that is painted in the same green as the the original Starbug, it also has various added engines and wings to make it look like the Bug. Chris Barrie (doing his best Jeremy Clarkson impersonation) made a spoof Top Gear-style feature about Carbug for the official Dave website.
In the episode, the Dwarfers borrow Carbug from a propmaker (who had stolen it from the head of their fan club) in order to track down their creator after discovering that they are in fact fictional characters who have somehow escaped from a television show called "Red Dwarf" - which all turns out to be a Despair Squid-induced hallucination, though Carbug still exists in the dimension created by this delusion. (Back to Earth)
Behind the scenes
Edit
Since the budget for Back to Earth was so tight, Doug Naylor bought the Smart Car for the production himself. (The Making of Back to Earth)
Filming in Carbug on Coronation Street had to be delayed when the keys to Carbug were accidentally locked inside the vehicle. The crew had to break a rear quarter window to get inside. Filming in Carbug was later completed at Shepperton Studios with green-screen in the background to add backgrounds digitally. (The Making of Back to Earth)
See Also
Edit
Ad blocker interference detected!
Wikia is a free-to-use site that makes money from advertising. We have a modified experience for viewers using ad blockers

Wikia is not accessible if you've made further modifications. Remove the custom ad blocker rule(s) and the page will load as expected.